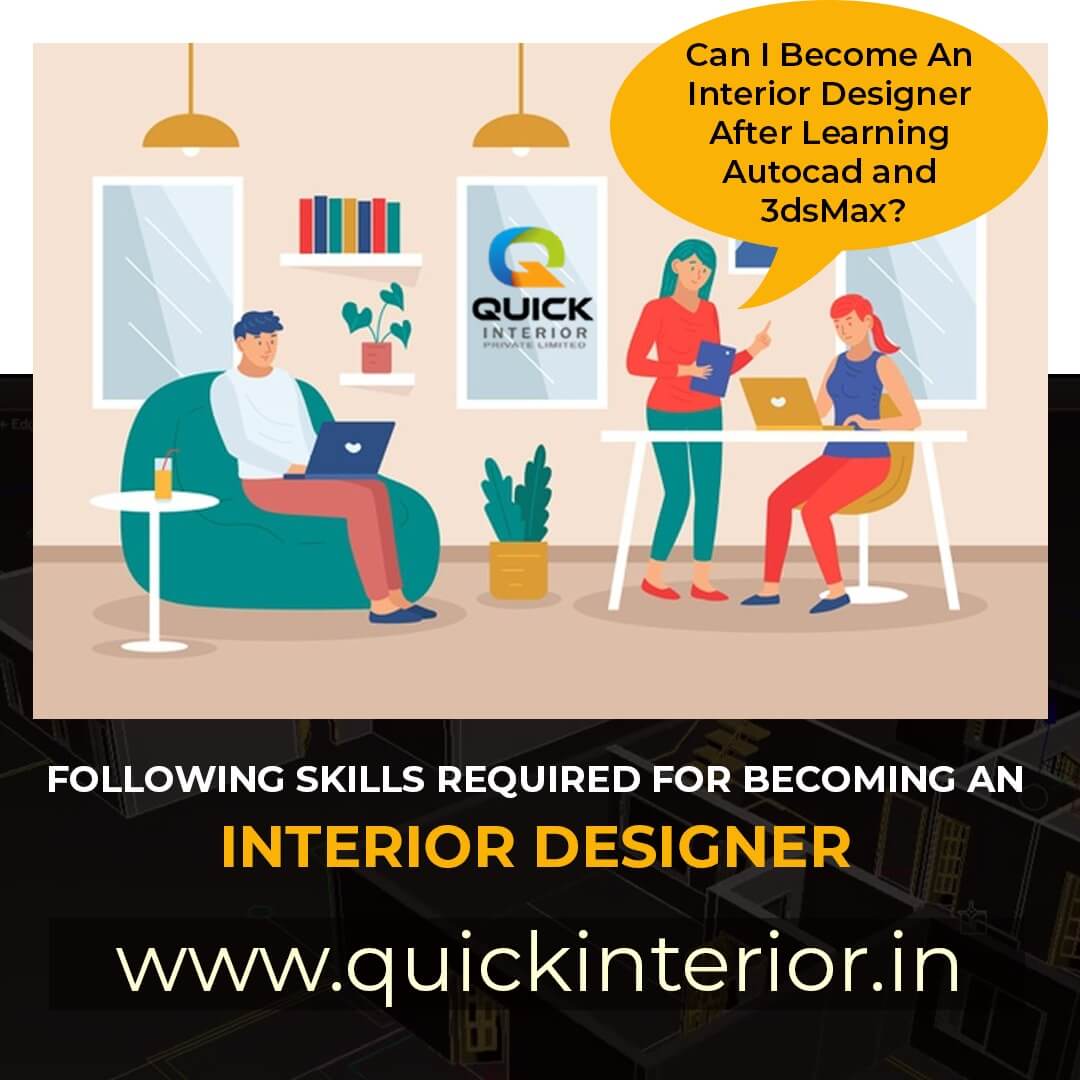 Can I become An Interior Designer After Learning Autocad And 3ds Max?
Following Skills Required For becoming An Interior Designer
If you want to become a successful interior designer, you need to become an imaginative person to analyze the interior space to design, decorate and make the space functional. Interior designing is not just decorating or designing the house. Interior design is a multi-faceted career that includes both creative and technical software knowledge. Interior designer not only designs the space but also solve the problems occurs during the space management. Interior designers need to know about the design process, concepts, themes, materials knowledge, history of design, computer-aided drawing, anthropometric and ergonomics, etc. Designers need to be all-rounded people as they need to interact with other people and must have interpersonal skills.
 Creative mind
Interior designing is not only changing the colour and pattern of the space but also having a creative eye for detail and new concept. An eye of a professional designer creates balance, harmony, and aesthetical space. A creative interior designer understands the selection of the colour for the room, artefacts or accessories, etc. elements that make the room more spacious and peaceful. Designer with creative mind plays a different role in designing with their out of the box ideas. The designer needs to generate a unique style for clients that suits their personalities.
Material knowledge
There are different types of material for different uses, selecting a desirable material for a particular use is an important task for designers. Designers who carefully select materials, finishes and having a good knowledge of materials durability, flexibility, and safety can build a well-constructed home. Material selection should be the priority for designers so that they can effectively show their creativity in the space they design.
 Anthropometric and Ergonomics
When designing the room or any space you need to know the standard dimensions of the furniture. Designer while designing the space consider the walking space, furniture space and also make free space for a better client experience. Measuring furniture or items and understand where should be placed helps to complete the design. Anthropometry is the study and measurement of the human body while ergonomics is the discipline of designing products to match the people who use them. These two factors are important for designing a space.
Software Knowledge And Sketching Ability
Today computer skills are becoming a key factor in my interior design career. Designing can be shown in software or drawing sheet, but it should be understandable and better represented for the client. Both software and sketching ability are great sources to show your design. It is important to have computer knowledge so a designer can design a number of options using software and also can change it in no time. On the other hand, those who like to sketch can show their talents by sketching client taste in different ways. Being able to use both methods will help you to gain more knowledge.
Interpersonal Personality
Even if the designer has a creative or imaginative mind, they should have superior communication skills to communicate with their client. The designer should also be a good listener to understand their tastes and make their ideas into reality. Interior designers should be extroverts and ready to meet new people with different personalities. Effective communication skills are needed to understand the client's personality and also achieve the goal. The designer should have exceptional qualities such as verbal and written skills to work with clients. Interior designer works with architects, contractors, and another service provider, etc. so it is important to have interpersonal skills to interact with them.
 Work Experience
The Interior designer works with a client to create a functional space for a client. As Interior designers, they have lots of work in their field from designing to executing the project. If you want to be a successful interior designer then u need to know the time management, design process, execution of projects, project management, and so many other skills. For this, you need to work in a company or firm to pursue practical knowledge and experience.
Facebook | Instagram | Linkedin | YouTube | Google Map  | Bing Map |