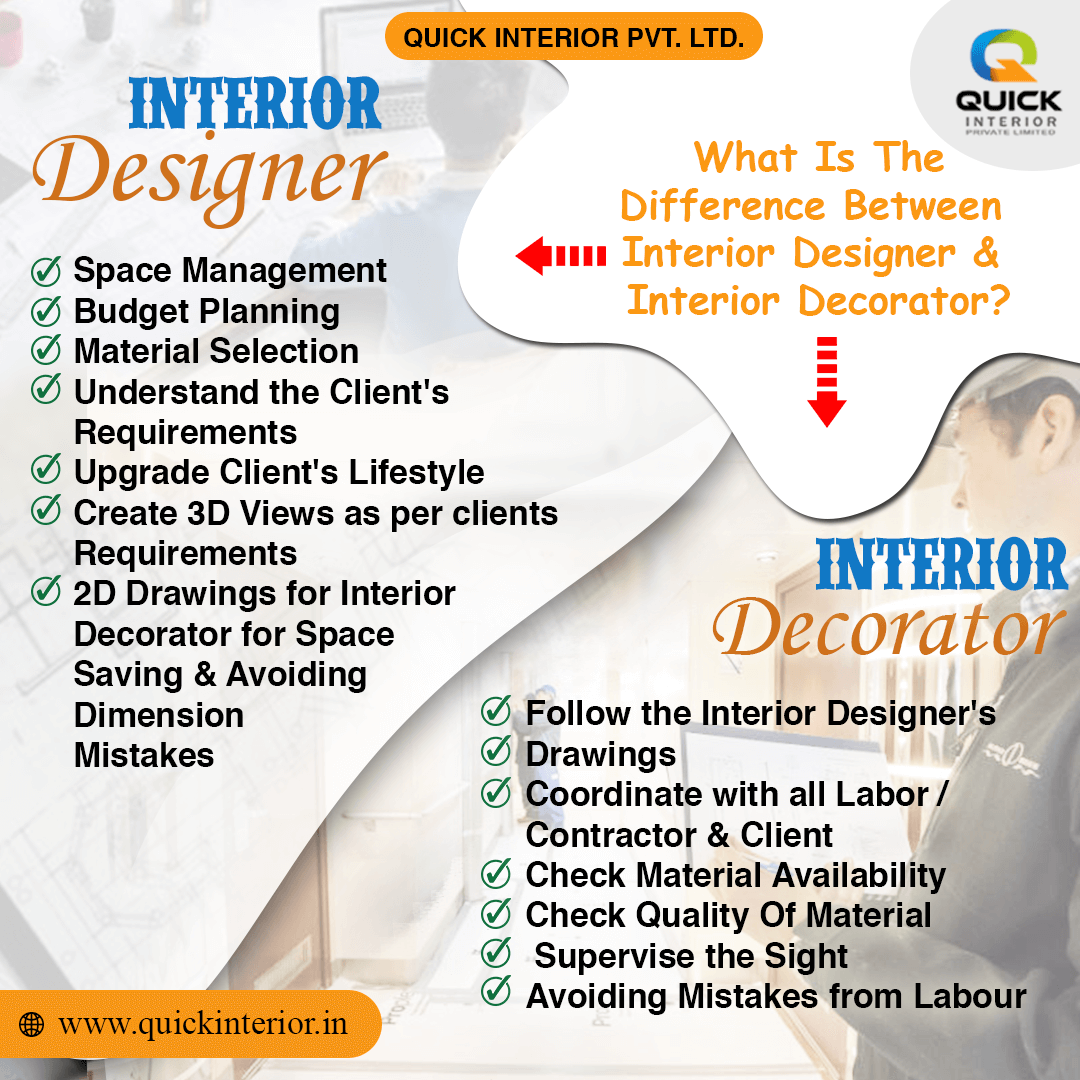 Interior Designer Vs Interior Decorator
 In this article, we have discussed the difference between Interior Designer Vs Interior Decorator. so, before doing the interior of your home you know that what are the goals of interior designers and interior decorators.
INTERIOR DESIGNER
1. Space Management
  Interior Designer do space planning or space management. they spend a lot of time doing space plans on AutoCAD. Designers focus on space extremely functional. There is a lot more technical stuff in Interior Design.
2. Budget Planning
  A design budget starts with the client's vision for space. Interior Designer do budget planning according to the products they used. There is a lot of things that go from creating the design concept to the selection of products to labour.
Material Selection
  The style or the look of the house sometimes dictates the material that the interior designer would advise. Material is considered of the most important elements that play a vital role in the functionality of space. Material selection can transform a house into a home but there are many things to consider colour, texture, and so on. The price of materials can have a big impact on the types of finish clients choose.
4. Understand the Client's Requirement
  Considering the client's requirements which may include their likes, dislikes, hobbies, and special requirements. According to that Interior design can make a design concept or style theme that fulfil client choices.
5. Upgrade Client's Lifestyle
  In general, The environment around us affects our mood, productivity, energy levels, and attitude. Creating a beautiful space to call home is not just about impressing your guests and surrounding yourself with pretty items or expensive items. It is about creating a space where you feel relaxed, comfortable, and at peace. Interior Designer can truly upgrade client lifestyles by adding lights and choosing items that indicate comfort.
6. Create 3D Views as per clients Requirements
  Interior Designer creates a drawing that clearly conveys interior design ideas. Designers do the 3D view in 3d max for clients to show them the actual view of the house with the choices that the client made. 3D software continues to revolutionize the industry, time-consuming and requires technical training. Both 2d and 3D views are required to shows amazing views of the house.
7. 2D drawing for Interior
  2D drawing created for space planning which is important to be required. One of the biggest and most important tasks to use the software for proper guidance. It includes sketches and 2d drawings in software as per the client's need.
8. Decorating for space-saving and avoiding Dimensional Mistakes
The most important task of an Interior Designer is to design the house in a way that the house looks spacious and tidy. Also, make it functional and avoid dimensional mistakes by considering ergonomic and human factors.
INTERIOR  DECORATOR
1. Follow the Interior Designer
  The decoration of the interior of the building or room, especially with regard to colour combination and artistic effect. It is the art of decorating a residential home or commercial building according to the client's requirements. The Interior decorator follows the interior design work but in a non-technical way. Interior decorator concentrates on the aesthetics of a space.
2. Drawings
  Interior Decorator makes drawing for proper perspective view and changes accordingly for client demands. The client can see astonishingly photorealistic renderings.
3. Coordinate with all labour/Contractor and Client
  Interior Decorator is an artist who works with clients to decorate interior spaces. Decorator coordinates with contractors for proper out-turn and also keeps in mind the client's requirements.
 4. Check Material quality and availability
Interior Decorator decorates the part of a house as well as be connected with labour for avoiding problems that may occur on material selection and their qualities.
5. Supervise the site
The role of an Interior Decorators generally involves the management and supervision of an interior site in accordance with health and safety guidelines Interior Decorator will be Quality control your site it would check whether your site can run according to design/plan. They will coordinate with the contractor & run the project seamlessly.
6. Avoiding Mistakes from Labor
It is the responsibility of the site supervisor to assess hazards, determine risks, conduct regular inspections, and maintain a safety program. Supervise the site for avoiding mistakes from labour.
Facebook | Instagram | Linkedin | YouTube | Google Map  | Bing Map |